Canton Location: 3150 South Canton Center, Canton, MI 48188
Taylor Location: 12261 Inkster Road, Taylor, MI 48180
(734) 397-8899 info@hallidayspetresort.com
Serving the Metro Detroit Area
19,770 square feet of Sports Turf Covered Outdoor Play Yards
Pet Spa Therapy
Hydrotherapy is a technique designed to speed healing for injured animals and to more quickly reduce pain and reduce swelling from the dog's injured tissue.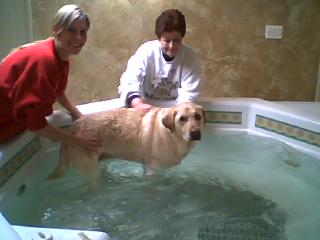 Our Egyptian spa and hot tub therapy helps us accommodate recently injured dogs or those with chronic pain or arthritis who deserve to feel their best. Benefits of our hydrotherapy services include*:
Exercise with less stress on the joints
Reduce or relieve pain, swelling, stiffness and other discomfort
Increased circulation from massage
Exercise for pets with tender or injured pads
Exercise for pets with "a little extra" whose joints might receive more pressure without the buoyancy provided by water
Once your dog feels better, you feel better!
Call Halliday's today to learn more about our spa therapy services.
*Disclaimer: We don't intend for this therapy to remove pain, nor heal your pet. It is a service we provide to help your pet through his or her regular therapy.