Dog and Cat Lodging
Halliday's offers your pet luxury boarding at its finest! Each of our rooms is individually themed, like "Little Camelot", "Hawaii Huts" and "Gnome Homes".
Ask about our Gold, Silver and Bronze packages!
For Dogs
We're very hands-on. We don't believe in doggie doors. We put a leash on your dog and make a point to pet them whenever we take them out. Every stay includes three business walks per day and you may purchase playtimes, where your dog can fetch a Frisbee, run through the doggie tunnel, or just enjoy the loving attention of our staff. They can enjoy the same activities as our Day Care visitors if they want to. Or they can choose from a lot of Extra Special Extras , including brunch, busy bones, and happy hour, while they stay with us.

For Cats
Our Kitty City includes a playroom and a cat condo room with a fireplace and plasma TV. We pay special attention to all of our kitty visitors. Kitties are taken into our playroom three times a day to play with our staff on our ten-foot kitty maze with three floors of hiding places and tunnels to explore!
VIP Suites
VIP Suites are the newest addition to the many wonderful rooms at Halliday's Pet Resort. These suites offer your pet a larger, more spacious room during their stay with separate air conditioning, heating and air filtration system. All suites are ceramic tiled and include a skylight, so that your pet can enjoy the sunshine indoors! If he happens to be an avid Animal Planet viewer, your pet will enjoy the plasma TV tuned in to his favorite shows. Or he can enjoy his favorite movie with the VCR and our available rentals.
While your pet is a VIP guest they will be the first to receive our attention in the morning and the last to be tucked into bed in the evening.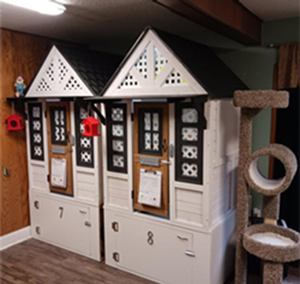 VIP Cat Suites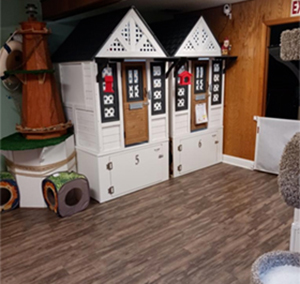 VIP Cat Suites
Food & Medicine
Kim is happy to provide the most delicious gourmet menu for you to choose from for your pets while they stay with us, or you can bring your own food. Give us a call to see what the current menu is!
We will take care of feeding or administering all medications (please make sure they are properly labeled) for an additional charge.
View and print our Lodging Contract